We run several virtual machine host servers on a network with multiple VLANs. The virtual machines are members of different VLANs, but are not themselves aware of the VLAN. This is how we did it.
We use KVM for virtualisation, but I'm not going to discuss the details here. Like any virtualisation solution, KVM starts a virtual machine and attaches its virtual network hardware to a network interface on the host OS. What I want to discuss is how to implement the networking layer.
I previously wrote about creating a network bridge for Virtualbox virtual machines, and we're going to do something similar here. However, we want to implement VLAN support and native 802.1q VLAN tagging at the same time.
The design:
The physical server is connected to the Ethernet switch via a 802.1q VLAN tagged trunk port
The host OS is aware of the trunk port, and implements several virtual network interfaces. Each virtual interface is associated with one VLAN. Any traffic on that virtual interface exits the physical network interface as tagged VLAN packets.
The host OS provides a network bridge for each VLAN, and adds the virtual VLAN interface to the bridge.
The guest OSes (virtual machines) are not VLAN-aware. They have a normal ethernet interface which requires no special configuration.
The virtualisation software (KVM, in this case) attaches the network interface of the guest OS to the VLAN-specific network bridge.
Warning: changing the Ethernet setup to your server can cause you to lose access to it. At all times during this process, ensure you have console access to the server, and network or console access to the switch.
That said, we'll try to time the network interruption such that we don't lose access. First, configure your server for VLAN networking. This guide assumes the server runs Ubuntu 8.04 "Hardy Heron", but the steps are similar for any recent Ubuntu release. I have no idea how Red Hat handles VLANs and bridging, but I invite you to provide the steps in comments.
This guide also assumes the server is connected to a VLAN unaware (access) port, on VLAN 100, with an existing /etc/network/interfaces like so:
# The loopback network interface

# The primary network interface
Finally, we assume that virtual machines will be attached to either VLAN 100 (the same as the host OS's own traffic) or VLAN 200. So we'll prepare support for both.
Install vlan and bridge support.
apt-get install vlan bridge-utils
Then edit /etc/network/interfaces. Modify the existing network setup to be aware of VLAN 100, and to create a bridge on it.
1

2

3

4

5

6

7

8

9

10

11

12

13

14

15

16

17

18

19

20

21

22

23

24

# The loopback network interface

# LAN uses VLAN trunking, so set any IP addresses on appropriate bridge

iface

eth0

.

100

inet

manual

# KVM bridge, VLAN 100, via eth0
We must bring eth0 up before we can create eth0.100, and we must bring eth0.100 up before we can attach it to the bridge interface. Finally, we must configure the host OS's IP address on the bridge. If you don't want to attach virtual machines to VLAN 100, you could configure the IP directly on eth0.100 and leave out the stanza for br100.
Now, apply changes. Because we're going to move the existing IP from eth0 to br100, the easiest way is to reboot. Alternatively, you may try /etc/init.d/networking restart, but make sure you run this from console so you can fix any problems.
Network interruption begins as soon as you run the above command, or reboot. To restore access to the host OS, we must now configure the Ethernet port on the switch. For Cisco, this is easy. Assuming the server is connected to gigabit Ethernet port 1, run:
interface

GigabitEthernet0

/

1
You should now be able to ping your server. Once you verify that works, add the configuration for VLAN 200 to /etc/network/interfaces.
iface

eth0

.

200

inet

manual

# KVM bridge, VLAN 200, via eth0
VLAN 200 doesn't need an IP on the host OS, so it lacks the static IP configuration. Configure any additional VLANs the same way.
Now we are ready to attach virtual machines to the new bridges. For KVM, use virt-install to create a machine with 20 GB hard disk, 1 GB of RAM, booting the hardy iso, and attached to VLAN 100.
virt-install --connect qemu:///system -n guestname -r 1024 -f /path/to/virtual/disks/guestname.qcow2 -s 20 -c /path/to/isos/ubuntu-8.04.3-server-i386.iso --vnc --os-type linux --os-variant ubuntuHardy --accelerate --network=bridge:br100
Now use virt-manager to connect to the guest and configure it.
The last step can be replaced with any other virtualisation solution. For instance, with Virtualbox, you can create a VM and then attach it to the bridged interface br100.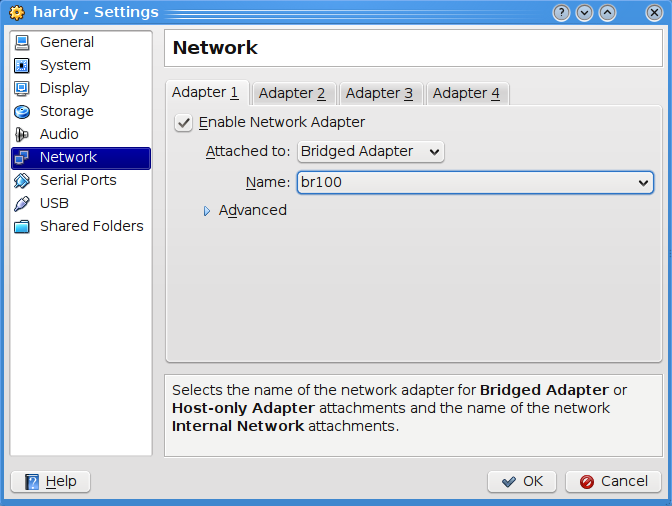 Unlike the Virtualbox NAT/routing setup, we don't need to enable IP forwarding (sysctl -w net.ipv4.ip_forward=1). This method uses layer 2 switching only. However, if you use an iptables firewall, make sure the FORWARD chain of the filter table defaults to "ACCEPT", or use an equivalent rule matching traffic to/from the virtual bridges.
Tags: hardy, kvm, networking, ubuntu, virtualbox