Last night my 4-year-old daughter Pascale and I assembled a PC for the kids to use. I reused gozer, my former HTPC, along with a monitor given to me by my friend Soren, and a keyboard and mouse purchased for tiny hands. I installed Qimo 2.0, a children-focused Linux distribution based on Xubuntu 10.04 "Lucid Lynx".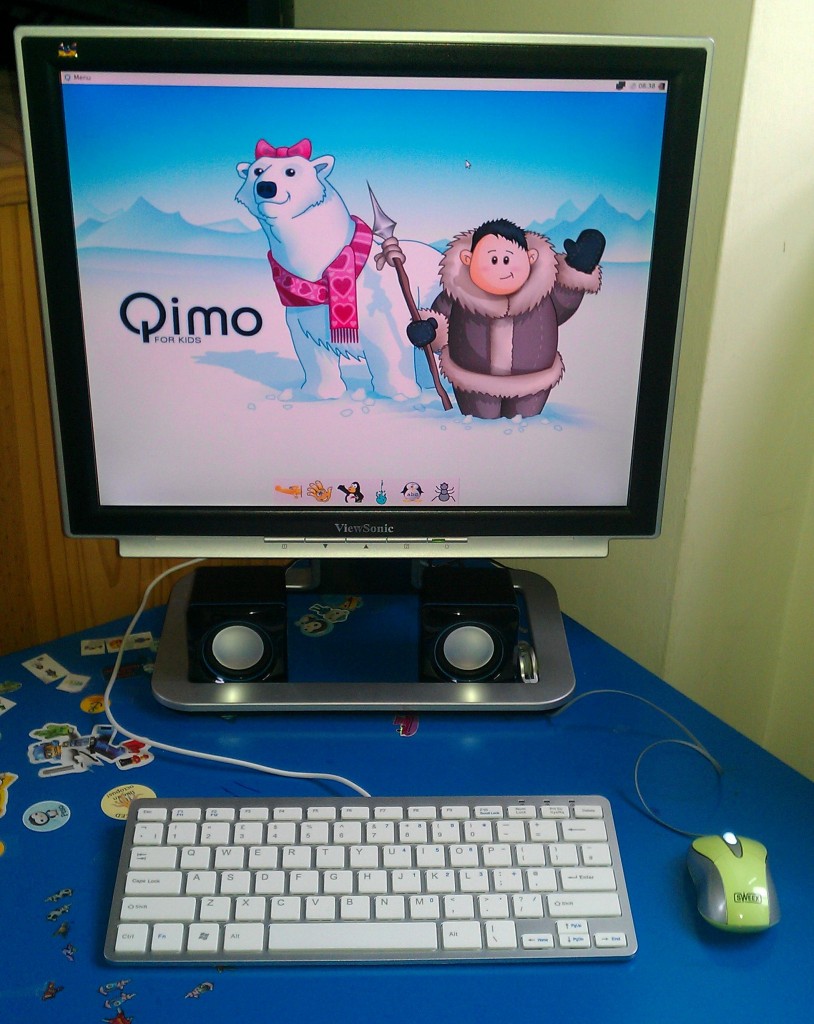 Hardware breakdown, for the curious:
gozer, a Shuttle X27D chassis with an Intel Atom 330 dual-core 1.6 GHz CPU, integrated graphics, 2 GB of RAM, a 320GB hard drive, and a DVD-RW drive. gozer is documented in greater detail in my original HTPC post. The hardware is unchanged.
A ViewSonic 15″ monitor with DVI input. Resolution is 1280×1024, which is more than enough for the kids.
A GMYLE Super Slim USB 2.0 Mini Keyboard and Sweex MI055 Mini Optical USB Mouse (Green), both of which are ideal for small hands. I would have preferred a laser mouse, and one without a retractable cable, but apparently no one makes good small mice.
Super cheap china-brand USB-powered speakers. Perfect for the tinny bleeps and bloops of GCompris.
I haven't customised the default Qimo desktop, which seems ideal for the kids at present. It is Xubuntu with an "Eskimo and polar bear" background, large-icon launcher bar on bottom, and a number of software packages for children. So far Pascale really enjoys GCompris and Tux Type. She likes it when she hits the keys and Tux eats the fish.